Friday, February 15, 2019
On Friday and Saturday, January 18th and 19th the inaugural meeting of the West Regional Mission and Ministry Council (RMMC) took place at Foothills Lutheran Church, Calgary Alberta. The council members enjoyed the hospitality of Pastor David Bode, Deaconess, Miriam Winstanley and a host of hard-working congregational members who provided transportation, billeting, and meals. The Council is a newly created organization of Lutheran Church–Canada which consists of the regionally elected Circuit Counsellors and Circuit Lay leaders. The primary work of this council, as described in the LCC Handbook, is to assist ...
Friday, February 15, 2019
"Did you hear Rev. ____ left the ministry?" In church circles, that kind of conversation opener is all too common—a sign of the growing danger of burnout affecting pastors everywhere. Mental and emotional well-being seem to be on everyone's radar these days—and with good reason. We have often been guilty of ignoring signs and situations that require greater care and support as people face challenges to their mental well-being. The church isn't exempt from this either. But what happens when the people we turn to for spiritual support are themselves in need of ...
Thursday, February 14, 2019
Starting January 1, 2019, as part of the renewal efforts by Lutheran Church–Canada, District newsletters ceased publication and content from those newsletters were amalgamated into a single newsletter published by LCC: InfoDigest. As a result, InfoDigest has increased its frequency of publication from bi-monthly to weekly. The new InfoDigest includes sections devoted to news from LCC as well as its three regions, in addition to events, announcements, and other information. As noted in emails in the lead-up to the new year, subscription to the new InfoDigest is an opt-in process (subscribers to the old mailing lists were ...
Wednesday, February 13, 2019
Registration for the 2019 Lutheran Church–Canada (LCC) National Youth Gathering is now open. The Gathering is an event sponsored by Lutheran Church-Canada every three years that is focused on building up and encouraging Lutheran young people and youth leaders in our church. The event will be held at Trinity Western University in Langley, British Columbia between July 5th to 9th, 2019. The theme for this year's Gathering is "WORTHLESS – There Is Nothing You Are Worth Less Than!" The Registration Cost for the Gathering for both youth and youth leaders is $495 ...
Wednesday, February 13, 2019
By: Lise Haberstock I wrote the first draft of this article in one sitting. Pages upon pages, ranting about mental health in the Church, focused mainly on pastors and their families—well me, really. Nothing I said was untrue, but the next morning I began to doubt my ability to make it public. Would our present congregation think I was talking about them? What about our former one? Can I talk about this without being judged because of my position as a pastor's wife? Fear was stilling my hand again. I am afraid. Afraid ...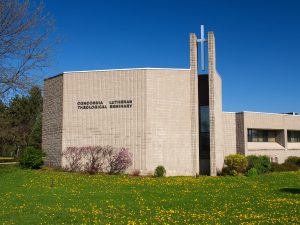 Wednesday, February 13, 2019
Following an interview on Monday, 4 February 2019, the Board of Regents extended a solemn call to Rev. Min Kim of St Albert, AB, to serve as Assistant Professor of Theology at CLTS. (Professor Esko Murto will vacate the position in June 2019 in order to return to his native Finland to take up a parish pastorate.) Rev. Min Kim (48) is a native of Korea who moved to Canada in 1995. He is a graduate of Seoul Theological University (BA Theol. 1995) and Concordia Lutheran Theological Seminary, St. Catharines (MDiv, 2002). ...
Tuesday, February 12, 2019
By: David Haberstock Something seemed off. What were we missing? I'm a pastor (best job in the world, right?). So how could anything be wrong? My family is ok. My marriage is ok. New parish. New challenges. Untold blessings that I am thankful to the Lord for. What's wrong? Why am I angry at times without knowing why? My wife had told me for years that I needed to get a further degree and eventually teach. (That had been my original plan, till being blessed with my wonderful wife and children). She ...